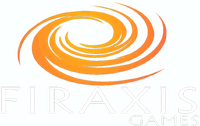 Firaxis Games is an American game developer based in Sparks, Maryland. They were founded in 1966 by Sid Meier, Jeff Briggs and Brian Reynolds. They mainly create strategy games.
They are the developer of Sid Meier's Ace Patrol and Sid Meier's Ace Patrol: Pacific Skies.
Ad blocker interference detected!
Wikia is a free-to-use site that makes money from advertising. We have a modified experience for viewers using ad blockers

Wikia is not accessible if you've made further modifications. Remove the custom ad blocker rule(s) and the page will load as expected.